Hey there, fellow Floridian business owner! Are you dreaming of soaring high in the online world? Well, you're in luck! In this blog, we're diving deep into the magical world of Google My Business (GMB) and how it can help your business shine bright in Florida. Plus, we'll let you in on why Social Booster Marketing is your secret weapon for enhancing your business's online presence and visibility.
Understanding the Basics of a Google My Business Profile
Imagine your Google My Business (GMB) profile as a digital business card for your company. It's like having a small website, and the best part is, Google offers it for free. This tool allows you to manage how your business shows up on Google Search and Maps when people search for services you offer.
To get started with your GMB profile, all you need is a Google account. Once you're in, you can fill out your profile with essential information about your business. This includes things like your business's name, address, phone number, website, and the hours you're open for business.
But here's where it gets exciting. You can also add pictures to your profile. These could be images of your products, services, or even happy customers enjoying what you offer. The more information and appealing visuals you have on your profile, the better it is for your business. It helps you stand out in the online crowd and catch the eye of potential customers.
Do Businesses Need to Verify Their Google Business Profiles?
Yes, it's crucial to verify your (GBP) profile. Think of it like proving that your online business card is authentic, just like making sure your real-life business card isn't fake. Google wants to confirm that you're truly the owner of the business you claim to be. This verification process helps safeguard your business's online presence from unauthorized changes or impostors.
How to Verify Your Google Business Profile:
Postcard Verification: Typically, Google will send you a special postcard by regular mail to your business address. This postcard contains a unique code. You'll need to enter this code into your GMB profile to complete the verification. It's like receiving a secret code to unlock your online presence.


Email Verification: In some cases, Google may offer the option to verify your GMB profile through email. They'll send a verification link to the email address you provided during the setup process. Clicking on this link confirms your ownership.


Phone Verification: You might have the choice to verify your GMB profile by phone. Google will call the business phone number you provided. They'll give you a verification code over the phone, which you'll need to enter into your profile.


Instant Verification: If your business is already verified on Google Search Console (another useful Google tool), you might be eligible for instant verification. This means Google will automatically verify your GMB profile since they already have your business information from Search Console.


Remember, the verification process is essential to ensure the legitimacy of your online presence. It's like putting a lock on your digital storefront to keep it secure and trusted by customers.
How Can You Keep an Eye on Your Google Business Profile Insights?
Now that you've set up and proven your GMB profile is real, it's time to explore the magical world of Insights. Think of Insights as a detective tool for your online business. It's like having a friendly digital helper that tells you all about what's happening with your business on the internet.
With Insights, you get to see some cool stuff, like:
How Many People Check You Out: It's like a headcount of all the people who visit your GMB profile. You'll know how many curious folks stop by.


Where They're From: Insights can tell you where these curious people live or where they were when they found you. Are they from your local neighbourhood, another city, or even from across the country?


What They Do: This part is super interesting. Insights lets you in on what these visitors do after they find your profile. Do they give you a call? Click on your website? Maybe they want to know how to get to your business. Insights will spill the beans.


So, Insights is like your friendly guide, showing you who's interested in your business and what they're up to. It's a handy tool to figure out what's working well and what might need a little boost.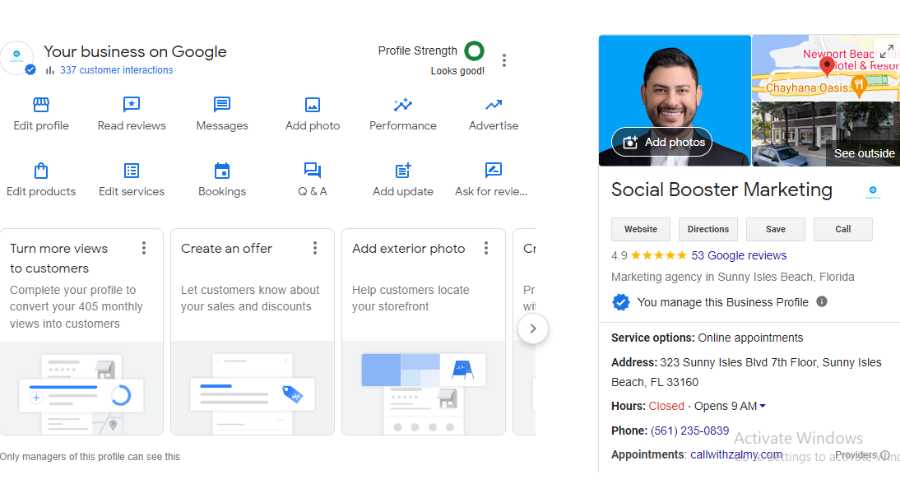 How Do Customers Find Your Profile?
Now, let's talk about how folks can discover your Google Business Profile (GBP) profile. This is where it gets interesting!
Imagine you're in Florida, and you're looking for a particular kind of business, like a bakery or a pet store. What do you do? You probably go to Google and type in words related to what you're looking for, right?
Well, when people in Florida search on Google for something that's similar to your business, your GMB profile has a chance to appear in the search results. It's kind of like a bright spotlight shining on your business in the digital world.
But here's the trick to making sure your profile shows up: You need to make sure your GMB profile is complete. That means filling in all the important details about your business, like your name, address, phone number, website, and hours of operation. Also, don't forget to add some awesome pictures that show off your business, your products, and your happy customers.
Plus, it's super important to keep your profile up to date. If your business hours change, or you have a special promotion, make sure to update your GMB profile so that people can find the most current information about your business.
So, remember, a complete and up-to-date GMB profile is like a magic wand that can help more people find your business online!

Click here for Top 10 Tips for SMM
What Are Some Tips to Dominate Local SEO with Your GMB Profile?
Now, let's get down to business. You want to be the king or queen of local SEO, right? Here are some secrets to help you rule the online kingdom:
Keyword Magic: Remember those special words like "Local SEO Florida" and "SEO Services in Florida"? Sprinkle them naturally throughout your GMB profile. Put them in your description, services, and posts, but don't overdo it. Google likes it when things sound natural.
Picture Perfect: A picture is worth a thousand words. So, why not show off your business with stunning photos? Upload pictures of your storefront, your team, your products, and your happy customers. These images can make your profile more appealing.
Review Love: When people leave reviews, be sure to give them some love in return. Responding to reviews, both positive and not-so-positive, shows that you care about your customers. It builds trust and makes you look like a superstar business owner.
Keep Posting: Just like you update your social media, post regularly on your GMB profile. Share exciting news, special offers, and upcoming events. Keeping your audience engaged can boost your visibility.
The Power of Social Booster Marketing: If you want to take your online presence to the next level, consider partnering with the experts at Social Booster Marketing. They know the Florida market inside and out. With their help, you can reach more customers, drive more traffic to your website, and boost your sales. 
Why Social Booster Marketing is Your Best Bet?
Social Booster Marketing is not just any ordinary company; they're like superheroes when it comes to making your business shine online. Here's why they're your top choice:
Florida Experts: Social Booster Marketing knows Florida like the back of their hand. It's like they have a special map of the state in their brains. This means they understand the local market really well.
Standing Out: Making your business stand out in the crowded online world can be tough. But that's where Social Booster Marketing comes in. They have some secret tricks up their sleeves to help your business get noticed.
Digital Marketing Magic: Social Booster Marketing knows all the magic spells for digital marketing. They have the knowledge and experience to make your business look great on the internet.
Social Media Superpowers: Ever wondered how to make your business a star on social media? Social Booster Marketing has the answer. They know how to use social media to boost your business's popularity.
SEO Secrets: SEO might sound like a secret code, but it's all about making your business show up when people search for things online. Social Booster Marketing are like wizards when it comes to SEO. They can make sure your business shows up at the top of the list.
So, if you want to be a superstar in the digital world, Social Booster Marketing is the team you need. They'll work their magic and help your business shine online!
How to Add Social Media Links to Your Google Business Profile
A new feature has been launched on Google Business Profile (GBP) which is Work in progress; from now on you will be able to add social media profiles directly on GBP.
Read more
Google has now added the ability to proactively link your social media profiles to your Google business profile!
This is a very welcome update, as previously these links were automated for you – sometimes resulting in incorrect links that you weren't able to change. It takes a lot of effort to match your GBP through your website, clever schema and even, good luck, your social media profile links!

Add social media links
You can add one link per social media site. For example, you can add one Facebook and one YouTube link to your Business Profile. To add a social media link:
Go to your Business Profile.
Click Edit profile and > Business information > Contact.
To edit, click Social profiles > Down arrow.
In the drop down that opens, select the social media link you would like to add.
In the web address field, add the link.
Click Save.
In a nutshell, Google Business Profile is your secret weapon for boosting local SEO in sunny Florida. By following these tips and enlisting the help of Social Booster Marketing, you can take your business to new heights in the online world.
Contact Information: Email: info@socialboostermarketing.com Phone: +1 (561)-235-0839
Are you ready to make waves in the digital sea? Start by optimizing your Google Business Profile and let Social Booster Marketing guide you to success! Your online kingdom awaits.
1Q. What is GBP and why is it important for local SEO?
Google Business Profile (GBP) is a free tool that allows businesses to manage their online presence on Google. It's crucial for local SEO in Florida because it helps your business appear in local search results, Google Maps, and provides essential information to potential customers.
2Q. How can I set up a Google Business Profile for my Florida-based business?
To set up a GBP, visit the Google My Business website, click "Manage Now," and follow the steps to enter your business details, verify your ownership, and optimize your profile with accurate information, images, and regular updates.
3Q. What are some quick tips to improve my GBP ranking in local Florida searches?
Optimize your GBP by using relevant keywords, encouraging customer reviews, uploading high-quality images, providing complete business information, and keeping your profile up-to-date with posts, offers, and accurate business hours.
4Q.How can I track the effectiveness of my local SEO efforts through Google My Business?
Google My Business provides insights and analytics on how users interact with your listing, including the number of views, clicks, and phone calls. You can also integrate GMB with Google Analytics to gain more comprehensive data on your website's traffic and user behavior, helping you measure the impact of your local SEO strategy.